Murch won the commission to design the Australian Wool Pavilion for the 1938 Empire Exhibition in Glasgow.  The C.S.I.R.O had commissioned the work, and Murch was recommended for the job by his friend Hedley Marston. This was a huge job and timely employment for many Australian artists living through the depression years in the UK. The project was administered by George Duncan and more than 20 artists were engaged in the construction of a 140 foot long mural of appliquéd felt and a huge gilded plaster ram on an external tower. Artists employed included: William Dobell, F.H. Coventry, Janna Bruce, Barbara Tribe, Jean Appleton, James (Jimmy) Cook, Amie Kingston, John Santry, Dennis Adams, Gordon Andrews and Donald Friend.
The Macarthur's, John and Elizabeth, arrived in Australia in 1789 and are recognised as pioneers of the wool industry. The family was influential and played a significant role in Australian colonial history. The Camden Park Estate, developed by John Macarthur remains in the family and is a heritage listed working farm.
The history of this painting and another work: Two women with a parasol (also catalogued as Study for Project Mural of the Macarthur Family) is historically interesting. Murch painted the studies in 1929/30.
Ria Murch, was fascinated by the history of the change in ownership of the painting Two women with a parasol. In the early 1930's the painting was given to Mick Paul who seems to have been a wild and interesting figure around Sydney town. Arthur Murch noted: Mick Paul was a rather larger-than-life character, "never completely sober, nor completely under the weather". Read my mother's account at https://arthurmurch.com/ria-murch/
Mick Paul was husband of Dorothy Ellesmore, a fine artist. After Mick's death, Dorothy inherited the painting and passed it on to Mick's cousin Terry Paul. Two women with a parasol was auctioned at Lawsons' The Contents of a Gentleman's Residence in October 1989 with the title Study for Project Mural of the Macarthur Family. Two women with a parasol  changed hands a few times and was exhibited at Campbelltown City Art Gallery in Sept-Oct 1992.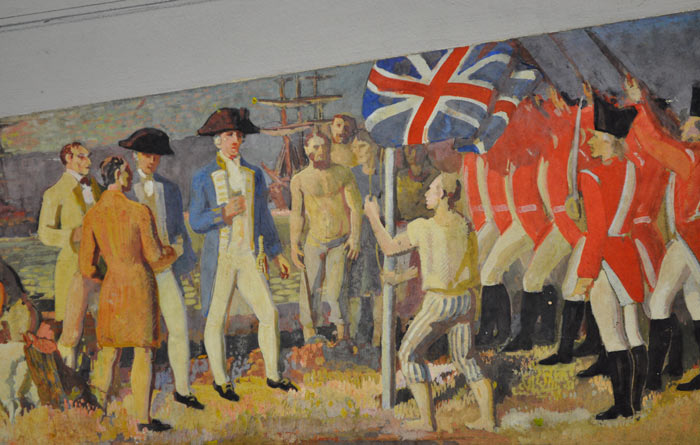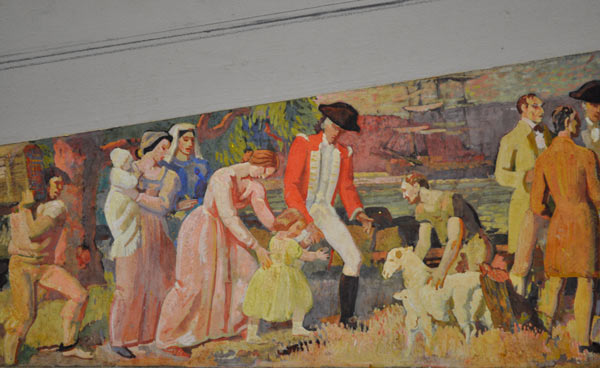 In 1960 Murch was commissioned to paint the "Foundation of European Settlement" for the Overseas Passenger Terminal at Circular Quay, Sydney. This work was 15 metres long and 4.2 m at the highest end of its wedge shape. David Schlunke, who lived with the family as Arthur's "apprentice" as well as Julian Halls and Helga Lanzendorfer worked on the project. The work was undertaken in a very large "brown paper parcel" know as "The Cathedral" in the backyard. Read more about the process and background to the making of the mural. The mural was unveiled in 1963.