The collections of the Art Gallery of New South Wales (AGNSW) can be viewed online. The AGNSW site will also indicate if the works are on display.
Leda was painted in London by the light of 24 candles cut in half. With the use of a mirror, Murch had 100 candlepower. The pointillist work was left in the care of the McIlwraith family when Murch and friends Wallace and Pat Thornton set off for a camping trip of Europe, oblivious that WWII was imminent. Frank McIlwraith was the Australian representative of Smith's Weekly. The painting returned to Australia in the late 1940's.
Frank's wife Madge and son Shaun McIlwraith returned the painting to Arthur. Madge had looked after the work, along with others through the London Blitz. Leda was hung in the Royal Academy and later purchased by the Art Gallery of New South Wales.
The first version of this beautiful circular painting was first exhibited by the Society of Artists on 6 Oct 1933 and is in the collection of the Queensland Art Gallery and Gallery of Modern Art (QAGOMA). Murch painted it while working with George Lambert 1927 – 30. He had made a plaster cast of the girl's head in order "to get the shadows right". The Trustees of the Art Gallery of New South Wales suggested amendments and then purchased the second version in 1933. The painting has been exhibited in 150 years of Australian Art, Art Gallery of NSW 1938; Jubilee Exhibition of Australian Art 1951 (touring exhibition); Brave New World National Gallery of Victoria 2017. Reproduced on the cover of "The White Chrysanthemum" by Nancy Keesing, Angus and Robertson 1977
Arthur wrote in 1975:
"The idle hour" 1933, a circular painting, was a second version. Originally I had made sculptures of the baby and child, but the advent of Amy Johnson with an escort of 10 planes in 1930 caused me to run outside to look and the model was spoiled. I decided to paint a picture, using the sculptures and a red-headed model as the mother. I grouped them together to see how the light would fall. The brocade on which the baby rests belonged to Lambert's studio.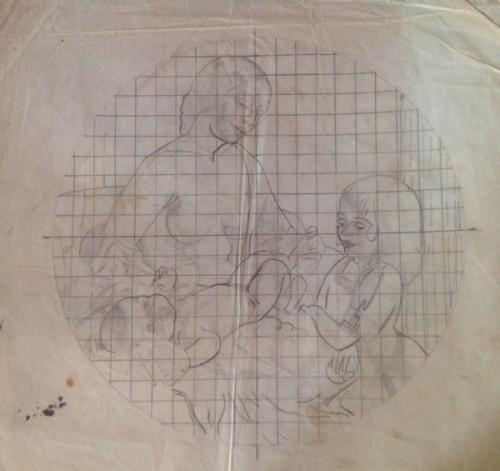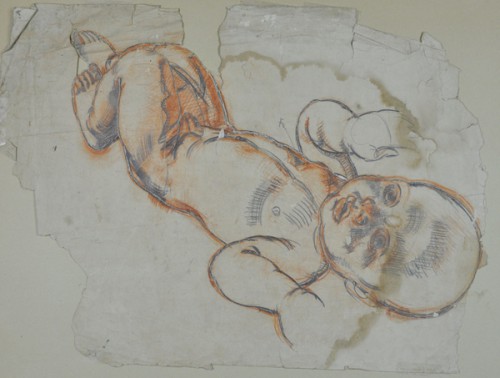 This frozen moment in the Croydon backyard of Murch's grandfather depicts the awe of the new (an unseen aeroplane flying overhead) and the domestic routine of feeding the animals. Arthur's cousin Aileen Cripps is the model for the woman. Edmund Harvey the model for the kneeling man.